Fraud: Bright Info for "Dark Web" Concerns.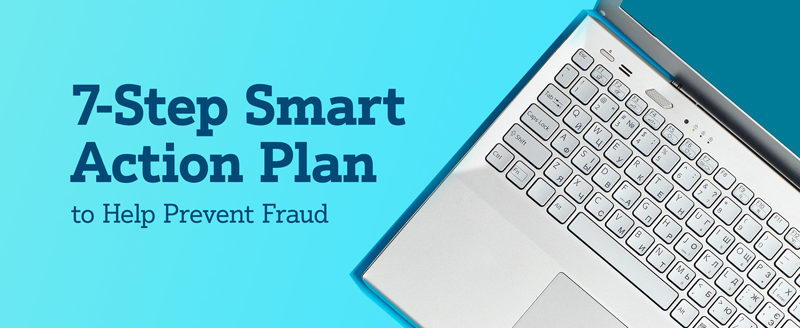 There's a bright side to everything––even the "dark web," where criminal activity occurs in the shadows of the internet. Good news, you can arm yourself with a smart action plan to protect yourself and your accounts.
In today's cyberworld, your information has lots of value, and sophisticated thieves are out to steal and sell your data, including credit and debit card numbers, bank account numbers, social security numbers, passwords and all sorts of personal information. Here's what you can do!
A 7-Step Smart Action Plan to Help Prevent Fraud
Change your passwords often. Every 3-4 months is recommended. In addition, it's safer to use different passwords on your accounts, just in case one of them is ever breached.
Be selective when buying on websites. If you have any hesitancy about giving out your information, don't. Buy only from reputable ecommerce sites or consider using an encrypted platform such as PayPal for online purchases.
Get a credit card account with a low balance. Or, ask your bank for a card with a "low daily cash total," such as $500. That way, if your card or account information is stolen, your liability will be limited if a thief tries to go on a buying spree.
Guard personal information. In particular, do not give out your social security number or bank account numbers unless you absolutely have to.
Be suspicious of your email inbox. Every day spammers are trying to steal your personal data. Sometimes, fraudulent emails are even posing as your favorite companies. If a company you know is asking for your information, call them directly rather than responding to an email.
Turn off your debit card with an app. If your debit card has been misplaced or stolen, some banks offer a way to "turn off" and "turn on" your card, just to be on the safe side––all through an easy-to-use app!
Shred all important financial papers. For many of us, our important information isn't just online, but also in our garbage cans. If you have any papers that might be valuable to a criminal, be safe and shred.
Farmers & Merchants Bank Can Help
We offer a variety of fraud prevention tools, including a mobile app with numerous built-in security features, chip-embedded debit cards and a secure website for safe online banking. In addition, we're here to give you the latest information that'll help keep your data safe, wherever you roam.