Love My Community: Weeping Water

Weeping Water: A Story of Heritage and Hope
At a spot south of Omaha and east of Lincoln, you'll find a town that has defied the odds. Many small Midwestern towns have withered over the decades, their populations scattering like dry soil in stiff prairie wind, whipped up by droughts or economic downturns. Weeping Water and the more than 1,000 people who still call it home, however, continue to thrive.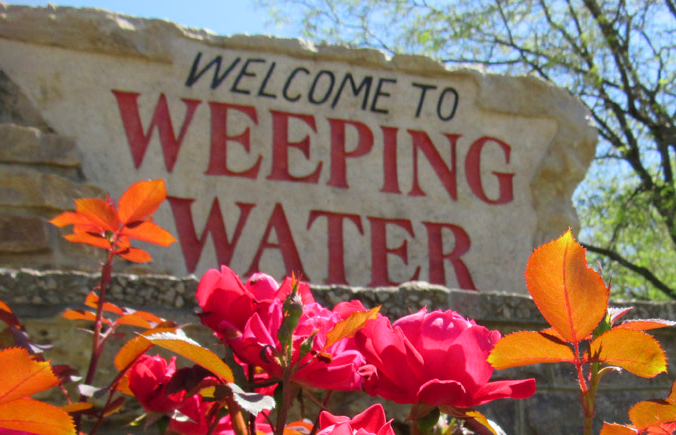 While life has changed over the 150 years since the first European settlers arrived, the hopeful spirit of Weeping Water's residents has not. Certainly, if you explored the town at its peak size (about 1,300 people in the 1890s) you wouldn't have seen the modern vehicles and flash-fast technology now on display. But you would have encountered friendly, industrious people and streets full of activity, just like today. You also would have felt the spirit of community that still exists.
Perhaps most amazing for a small town, three daily scenes of industry can be seen today that would have greeted you back then: limestone being mined from the local quarries, to be transported all over the world; railcars sidled up to the local grain elevator, loading up; and residents doing business at the hardware store, grocery store and bank right there on Eldora Avenue, the main street in town.
---
---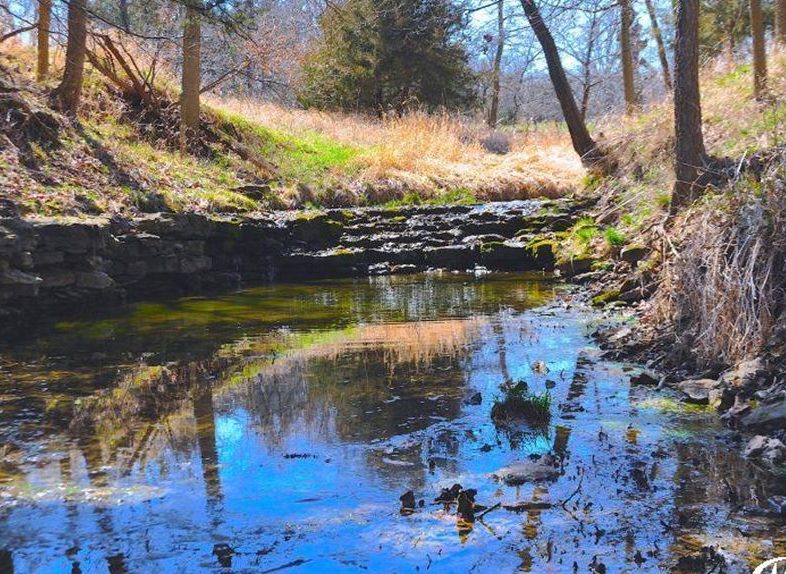 From Sadness to Success.
Some believe the name Weeping Water was the result of a mistranslation of the original Native American name for the area. A long-told legend holds that nearby Omaha and Otoe Indians went to war after one tribe stole the daughter of the other tribe's chief. After three days, all the warriors from both tribes had died in the battle. Tears of the dead braves' families flowed bitterly, forming the creek with their "weeping water." Some claim you can still hear their mournful cries along the creek bank today.
Outside of the legend, the creek and surrounding area was noted in reports from two French Canadian explorers who reached the Platte River in 1729. It was also identified on the 1804 map drawn up by Lewis and Clark. The first settler to reach the area was Elam L. Flower, who arrived from New York to the grassy plains in 1855, joined by a teenage assistant. The two worked feverishly to build and open the first mill in the same year.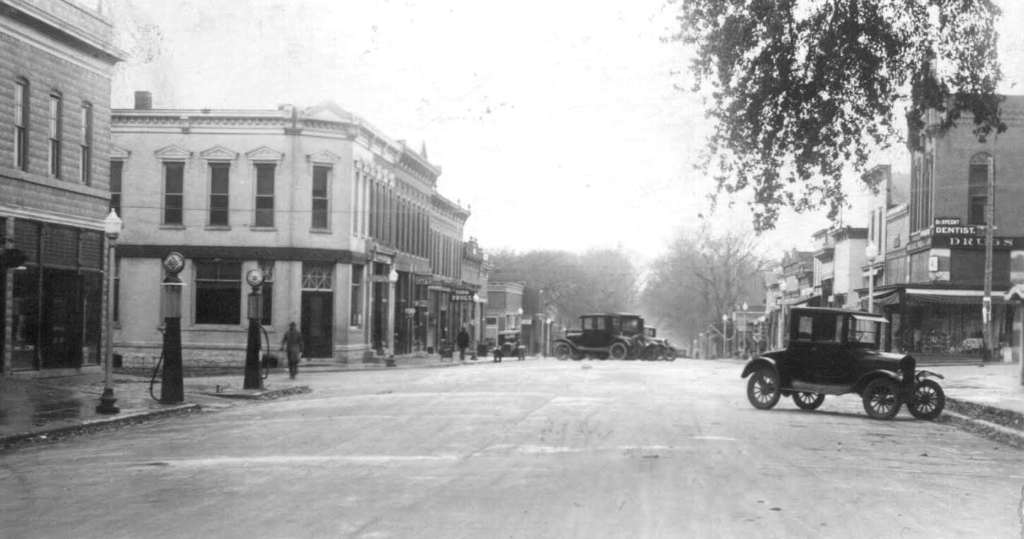 More settlers arrived and by 1857, a post office was established. Progress marched ahead: the area was incorporated as a village in 1870 and the railroad arrived in 1883. This lifeline to and from the wider world would change the city's future. The local prized resources––limestone and grain––were now loaded up regularly, bringing wealth to the town and fueling its growth. Settlers would bring their grain by horse and cart to town from more than 70 miles away.
---
Solid as a Rock.
The foundations of the community­­––working together with neighbors––was set, leading to an era of shared successes. By the turn of the century, the town had multiple general stores, hardware stores, drug stores, lumber yards, mills, wagon shops––everything it needed to become a commercial center.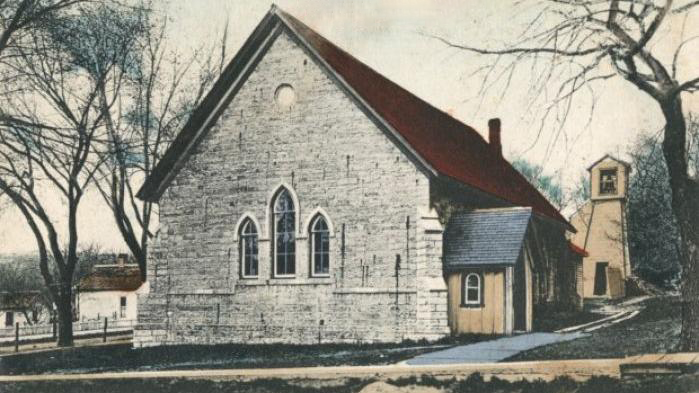 Weeping Water has been known as the center of Nebraska's limestone industry since the 1860s. That stone can be still be seen all around town, in the preserved buildings and foundations of the town. Today the town boasts the title, "Limestone Center of the Nation", with Kerford Limestone Company, Martin Marietta Aggregates and PCS Phosphate all well-known employers.
These enterprises continued to keep Weeping Water strong throughout periods when other small Nebraska towns began to lose population due to droughts in the 1920s, the Great Depression, World War II and family farm struggles in the 1970s and '80s. The town continues to prosper today, maintaining a sizeable population that includes many children and young families who will guide its future.
---
---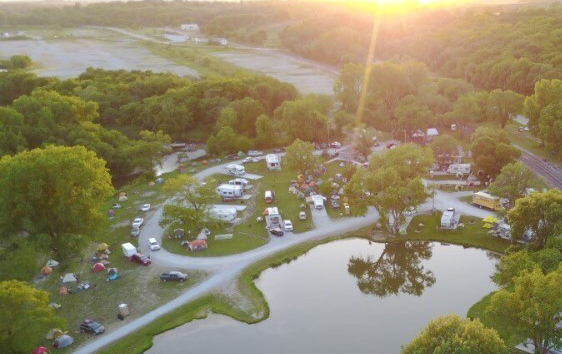 Living the Good Life.
Nearly 300 years after first being noted by explorers, life in the town built by the creek is defined by the shared values and relationships between people today. In fact, in a recent survey by Main Street Nebraska, the number one attraction for living in Weeping Water was listed as: "the friendly people."
That friendly spirit shines through in the town's local traditions. Pride beams from faces old and young alike as Weeping Water townsfolk gather for Limestone Days each summer, celebrating their ties to one of the industries that has sustained their success. A morning parade, outdoor BBQ, evening entertainment and vibrant fireworks show bring the town together. Weeping Water also hosts the annual Cass County Fair, drawing in friends and family from surrounding communities.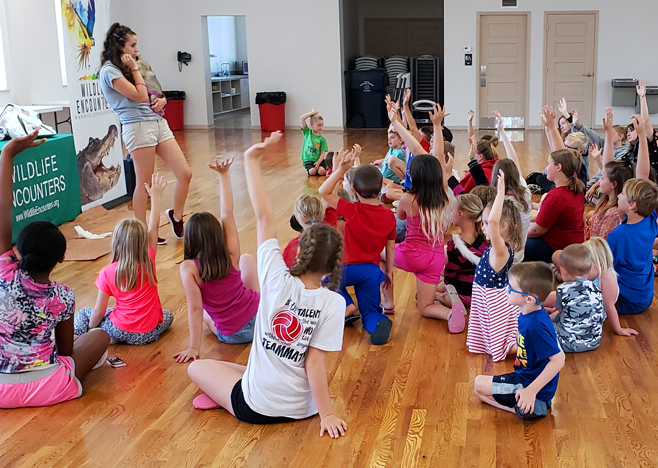 The annual Easter Egg Hunt, Fall Festival, Home for the Holidays events and of course, summers by the city pool, fishing at one of two city lakes or camping nearby, stretch the sense of pride year-round. Hidden in daily life, too, are the threads that keep Weeping Water strong and connected. You'll find local seniors gathered for bingo and a tasty potluck lunch at the Community Center every Monday. School sporting events, from basketball to football and more, are always filled with cheering fans.
"Living close and working in Weeping Water presents many opportunities to serve and make
a difference in the community, something not easily found in big cities," explains Don Hughes, vice president of Farmers & Merchants Bank in Weeping Water. Hughes moved to the town from Cheyenne, Wyoming in 2005, to join the Bank. "My wife and I are proud of our little city, and the rich heritage we enjoy by living and working here every day."
---
---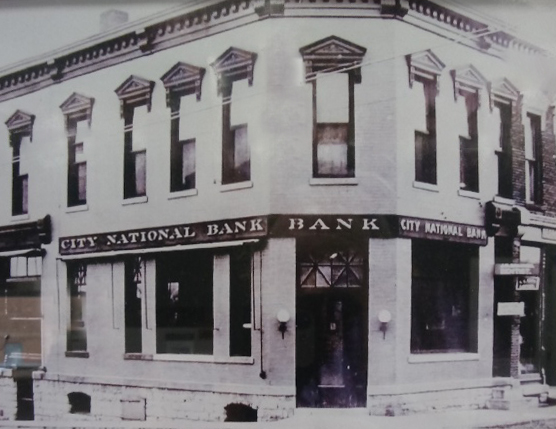 The Bank.
Weeping Water's very first bank was established in 1860. Banking went through many transitions over the next 160 years, but since the 1980s, Farmers & Merchants Bank has been serving customers from its home on Eldora Avenue.
Today, the Bank is an active partner in the town's continued development, working closely with the local business and farming communities, the Chamber of Commerce and the Cass County Economic Development Association to help ensure a prosperous future.
---
---
Farmers & Merchants Bank, Weeping Water Staff.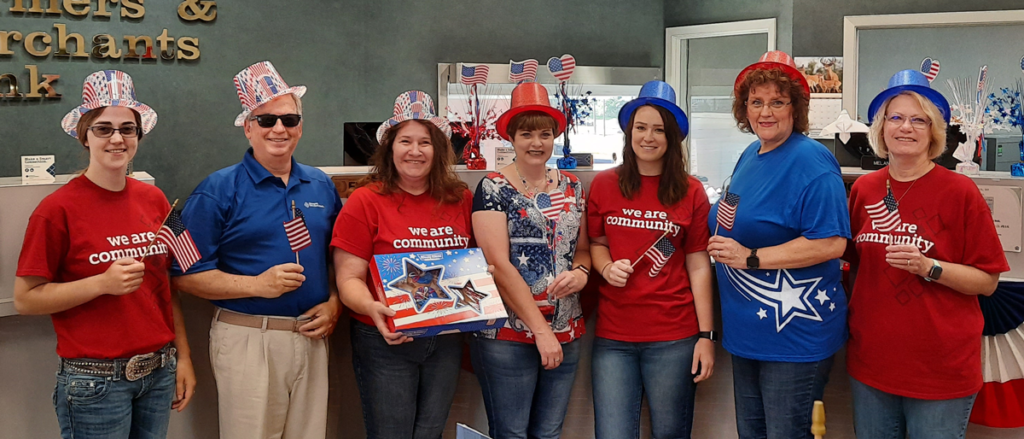 Don Hughes, Vice President/Loan Development Officer, joined the Bank in 2005. He and his wife moved to Weeping Water from Wyoming and love being part of the town. They have two grown children and two granddaughters. Outside of work, Don serves as vice president of the Chamber of Commerce, is active in leadership at his church and enjoys family outings. He loves fly fishing, music and writing.
Daniel Stohlmann, Loan Officer, has been with the Bank since 2019. He has deep roots in both commerce and agriculture in the area––his great grandfather founded a lumber and hardware business in Weeping Water in 1948 and with his father, runs their family farm operation in nearby Manley. Daniel loves to farm, but also enjoys hunting and Husker football.
Linda Leisemeyer, Loan Administrator, has worked at the Bank since 2014. She and her late husband enjoyed raising their three adult children in Weeping Water. Linda enjoys time with her three grandchildren and is excited to welcome another in October 2020. She helped found the local Volunteer Rescue Squad, serving as captain for 22 years, and is an avid gardener.
Sue Snodgrass, Loan Administrator, joined the Bank in 1999. She relocated to Weeping Water in 1982 with her husband. They have three married sons and five grandchildren. When not working or spending time with family, Sue enjoys serving the community as a member of Jared's Angels, an organization that helps families in need. She also loves to sew.
Melanie Hansen, Loan Administrator, came to work at the Bank in 2018. She and her husband live on an acreage outside of Syracuse. They enjoy outdoor activities like fishing, traveling and spending time with family and friends. Melanie reports that Limestone Days and the Cass County Fair are two of her favorite events of the year.
Heidi Schreiner,Customer Service Representative Supervisor, started working at the Bank in 1994 and has enjoyed working in customer service all of her career. While she was born and raised in Omaha, she fell in love with Weeping Water after her sister married a local and moved to the town. She's made it her home for 33 years now! Heidi's family is her greatest treasure, and her current hobby is spending time with her granddaughter.
Riley Kavulak, Customer Service Representative, started working at the Bank in April 2020. Originally from Louisville, she moved to Weeping Water in 2020. When not helping customers at work, Riley loves to spend time with her friends and enjoys relaxing at home with her two dogs.