Hometown Pride Winner: Pleasant Dale Volunteer Fire Department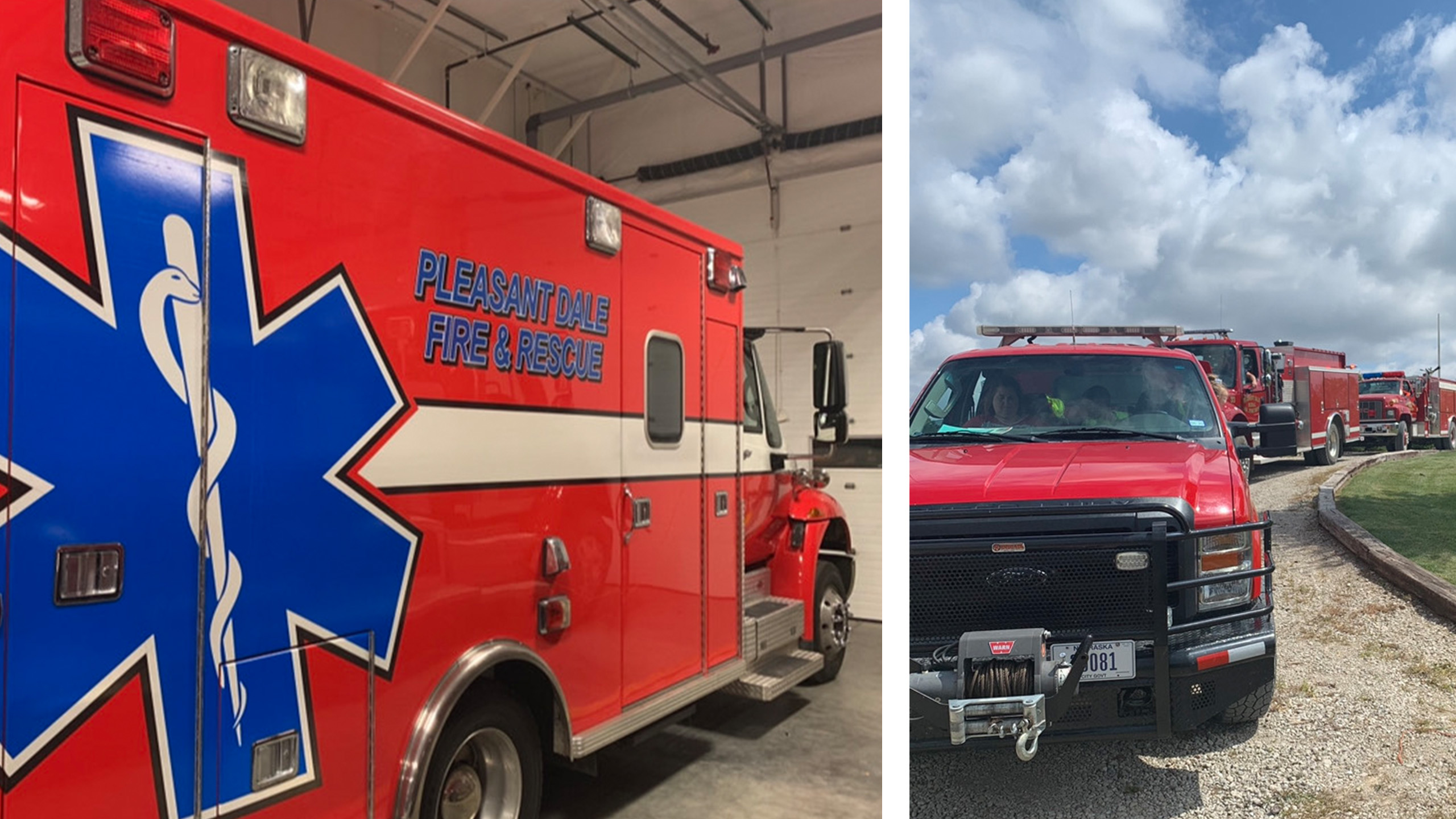 Congratulations to our Hometown Pride winner: The Pleasant Dale Volunteer Fire Department! This organization serves the community of Pleasant Dale and the surrounding areas west of Lincoln by providing fire and rescue services and support.  
The department consists of 39 members: five of which are firefighter/EMT's, three are firefighter/EMR's, and two are in training to be firefighter/EMT's. Each year, they respond to between 70 and 110 calls. 
The Pleasant Dale Volunteer Fire Department (also known as PDVFD) was founded in 1942, so they've been serving the community for more than 80 years! But even before the official founding of the organization, the townspeople rallied together to help fight local fires and other emergency situations. 
One story that harkens back to the years before PDVFD, occurred in the local pool hall, a beloved place where people gathered for games and social time. In April 1932 at one o'clock in the morning, a fire started behind the establishment. At the time, the town had some fire equipment: a two-wheel hose cart, fifty feet of canvas hose, a hand pump, and a ten-foot hard suction hose. The townsfolk were able to put the fire out quickly, but they lost the hose cart in the process.  
When the PDVFD officially began, it started with just 13 volunteers from the community! Since then, more volunteers have joined, and the department is bigger than ever.
"We are all volunteers, and everyone plays a part in helping each other," said Cody Rohrig, one of the volunteers. 
While it may be a volunteer department, they ensure every person has the right training for the job. "Our department has a vast range of skills and experience," said Rohrig. "This has paved the foundation for a strong community-first culture. We have been fortunate when it comes to department roster numbers." 
Despite having wonderful volunteer support, they've had to make do when it comes to certain resources. In the last few years, the fire department has relied on supporting departments in the area for rescue call transports, otherwise known as ambulance rides. "They not only provide service to their community, but ours as well." It has been an actual lifesaver for those needing rescue transport in Pleasant Dale. 
The PDVFD is so thankful to the following departments for providing rescue transports and other services for many years: Milford, Malcolm, Southwest, Crete, and Midwest Medical.
"It's nice to see neighbors helping each other, no matter the size or problems," said Rohrig. 
In 2022, the fire department started a fundraiser to purchase an ambulance for the community and raised more than $26,000 for it. On August 10, 2022, the PDVFD shared an exciting announcement — they met their goal and now have an ambulance that can serve the entire community with rescue transports! The fire department is still working on getting their transport license to be able to take patients to the hospital, and they've continued to work with neighboring departments for this service in the meantime.  
While the PDVFD provides serious, life and property saving fire and rescue services to their community, they also give to their community in more fun-loving ways. They've hosted and participated in Easter egg hunts, Fourth of July festivities, Santa meetups, pancake feeds and soup suppers. 
The Pleasant Dale Volunteer Fire Department plans to invest their $500 prize back into the community by purchasing supplies and equipment and offering more training and education for the team. 
To keep up with the PDVFD, like and follow their page on Facebook.