Smart Business: Carmen's Style Shoppe, Superior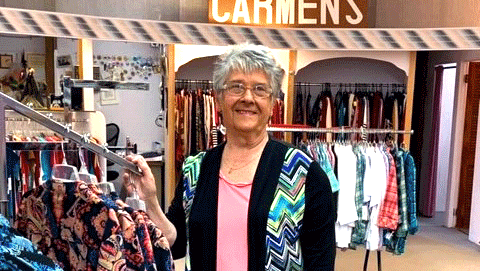 When the ladies of Superior, NE need the right accessory to top off an outfit or a dress for a special occasion, they know where to go: Carmen's Style Shoppe. For the past 45 years, Carmen Bruening and her staff have helped hundreds of women select clothes that make them look great and feel great, too. 
Years before Carmen's Style Shoppe became a favorite in the community, Carmen honed her fashion sense by sewing her way through college at a local maternity shop while taking in alterations jobs on the side. When her husband got a job in the town of Stamford, Carmen continued to build a name for herself as she sewed for friends and family. Then, when her husband's coaching job took the family to Superior, Carmen began offering her unique skills to the women of the town by creating one-of-a–kind outfits. 
In 1967, a friend familiar with Carmen's talent as a seamstress introduced her to the friend's aunt and uncle, Mildred and Lloyd Maxwell, owners of what was then known as The Style Shoppe. Carmen began running the fabric counter under the Maxwells' guidance, eventually building enough confidence to buy the shop in 1974. The rest, as they say, is history. 
These days Carmen prides herself on putting a unique spin on how she runs her business. "We help women find clothes that they'll want to wear again and again," she says, adding that Carmen's sets itself apart by offering perks like in-store alterations and gift wrapping. At the end of the day, Carmen and her employees work hard to live up to the store's well-earned reputation as the perfect place to go for small-town service with big-city variety–a mindset we at the Bankcan understand. 
Farmers & Merchants Bank offers businesses a familiar face in your community with the service and products of a much larger bank. Those kinds of offerings enabled us to help Carmen get her business loan in the 1970s, and why we're still serving her needs today. May you have continued good fortune, Carmen!