Smart Business: Lauber Funeral

Building a Business
When Robert L. Moore moved to Friend and opened a mortuary, he likely wasn't thinking about the fact that he would be continuing an ages old tradition of honoring the dead with funeral and burial rites. He no doubt was thinking, however, that he would be providing a much-needed service to local area residents.
In 1960, his military service over, Robert's son, James, returned to Friend with his wife Carla and purchased the funeral business from his father. Sixteen years later James expanded by purchasing the Masonic Building in Beaver Crossing, converting the main floor to a visitation facility and chapel, becoming the Beaver Crossing Funeral Home.
James found an opportunity to expand once more in 1980, when he formed a partnership, and they purchased the existing mortuary business in Milford. Renovations were again necessary, converting the garage into a chapel and adding an extra visitation room.  Eventually, James bought out his partner and became sole owner of the funeral business with locations in Friend, Beaver Crossing and Milford.
For 32 years James operated the funeral homes before retiring and selling his growing business to William (Bill) J. Lauber in 1992. Bridging the past 30+ years of James Moore's ownership with a new future, Bill changed the name to Lauber-Moore Funeral Homes.  Bill embraced his career, serving in various roles in the Nebraska Funeral Directors Association and assisting with various pieces of state legislation having to do with the funeral business. Serving his community, church and Masonic Lodges and helping others whenever he could made Bill a well-known member of his community.
The three Lauber-Moore Funeral Homes provided honest service, comfort and compassion to members of their respective communities as they navigated the often uncharted waters of planning a meaningful funeral tribute to their deceased loved ones. Over the years, Bill renovated various aspects of the facilities to make this distressing time more comfortable for grieving families and friends. In 1996, the Milford facility was remodeled, increasing office spaces and family consultation areas as well as upgrading the chapel. As cremations gained popularity, in 2010 he created a covered crematory that persons can drive into, take a moment with their lost loved one, and be comforted by the privacy of this time.  Unfortunately, the devastating May 2014 tornado caused extensive damage to all of downtown Beaver Crossing and unfortunately that Lauber-Moore facility had to be demolished.
A Crushing Loss
In March 2022 tragedy struck the Lauber family and their communities when Bill, his wife Christy, and youngest daughter Regan lost their lives unexpectedly in a plane crash, leaving their three remaining grown children, family and many friends in stunned grief. For over 25 years Bill, Christy, and their children had been an active, well-liked part of their hometown Milford, Friend and the surrounding communities. This loss was, quite simply, a devastating blow to everyone.
Throughout his life, Bill's signature saying had been, "Every life has a story to tell. Let us tell that story." It was important to him that anyone going through the grieving process have a chance to talk about their loved one, about the special qualities that made them unique. So, community members wrapped their collective arms around the Lauber family, and each other, and continue to share their many remembered stories about Bill, Christy and Regan.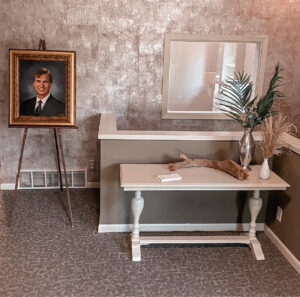 Honoring the Legacy
Bill's children and the loyal professionals at the funeral home are now dedicated to honoring his legacy. Running the business is Whitney Chrisman, Bill's oldest daughter. By day, she's a mental health practitioner experienced in grief therapy, helpful in her new role at the funeral home. Grateful for the help of her husband, Whitney is managing the finances and overseeing general operations.
Bill's son, Michael, is following in his father's footsteps, going to school to become a funeral director and will take over the business upon graduation. Whitney said, "I entrust that he will do a lot of the same things my dad did that the community really appreciated."
Another daughter, Madison, also helps out. Needing an update, the funeral home in Friend was recently renovated to have a more calming presence, with soothing colors and comfortable furniture.  Bill's wife, Christy, an interior designer, had already purchased many of the items. Whitney noted that Madison was very much into the details of that project, a lot like her mother would have been. And she offered that while it was healing for them, it was also for the community to see that we're staying put, and we value the families that come in.
One of the hallmarks of Bill's service to families was how he prioritized the small details that could make a big difference.  He understood how people grieved, how overwhelming loss could be and wanted to make things as easy as possible for families.
"When I talk with people in the community about how my dad conducted funerals, it was just the minor, small things that I feel like truly genuinely made him connect with people," said Whitney.
"It was little things like how he would get on their level when they were letting the rows go through churches after the funeral's over. He would just get down to eye level and say, 'Okay guys, you ready?' It was things like that where he just knew what was needed at that moment.  We're trying to replicate that and hoping that we can keep the business going in a way that honors him and also continues some of those small details that make a difference."
Of her father, Whitney said, "He was very present and active in the community and we're trying to continue that." The loss of such a well-respected, trusted, integral businessman in the community naturally raises questions about the future of the business.  But the siblings have made it clear that the funeral home will remain in the family and is here to stay, evidenced by activities like their recent participation in the Milford Fun Days parade. They, along with Doug Wymore, Funeral Director/Manager, and Dennis Svoboda, Crematory Manager, will carry on the tradition of working tirelessly to help families plan beautiful and meaningful tributes to their loved ones.  Bill's legacy of honoring and telling the stories of lost loved ones, attention to detail, personal service, honesty and community involvement are in very good hands.
Working Together
Farmers & Merchants Bank is very close to the Milford funeral home, not just in physical location but also in their business and personal relationship.
"Right away after things happened, there were people that were trying to impersonate my father and call the bank," said Whitney. "They had heard about the news and were trying to get access to bank accounts. The staff knew what was going on, but right away they were on it. They instructed staff and made sure that the accounts were secure. They (the Bank) also called and offered their condolences. There was a good mix of 'We're here to help you in whatever way possible professionally, but also we're grieving, and we'll do whatever we need to do to help you'."
"They've helped so much with just helping me understand some of the business expenses and how they were being paid out and which ones were automatic or not," said Whitney. "It was overwhelming, and they knew that already from working with my dad so long that they were able to give me information to just help me. There were so many things going through my mind that it was so hard to focus and they provided that stability that I needed to help the business." The Bank is confident that Lauber Funeral Home will continue to prosper and provide its' valuable services to the community into the future.
To learn more about Lauber Funeral Home, visit: https://www.lauberfh.com/.