May 2021 Smart Business: Greenblatt & Seay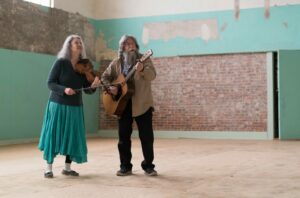 Local Avoca Business with a Worldwide Impact:
Greenblatt & Seay
Based in Avoca, NE, Greenblatt & Seay creates unique music collections sold to the community and around the world. They work with a wide range of music but specialize in folk and classical music for strings and recorders. David and Debby Greenblatt own and operate the business and together have made a significant impact over the years.
Beyond selling music collections, they also teach private music lessons for violin, guitar, recorders, pennywhistle, harmonica, banjo, mandolin, and many more. Due to COVID, they've adapted and created online workshops that attract students locally and from all around the world in places like Germany and Australia.
The business might be serving people across the ocean, but Debby and David have never forgotten about their roots and the community they live and work in. They have created audio content for area musicians, recorded video content for the Minnesota State Fiddling Association, and even performed music through the Nebraska Arts Council and Humanities Nebraska.
Debby and David moved to Avoca in 1990 and have kept busy serving their community outside the business. David was a member of the Village Board and the Volunteer Fire Department. Debby was a member of the Goldenrod Garden Club and ran the Avoca Library for over 20 years. Both of them were also members of the Avoca Lions Club.
Debby and David measure the success of Greenblatt & Seay in a unique, heartfelt way:
"When old students, from decades ago, keep in touch and let us know their progress, we know we have been successful," said Debby Greenblatt. "When our fans buy our publications year after year, we know we have been successful."
With Farmers & Merchants Bank, Debby and David found great rates for CDs which have helped them in more ways than one. "This has helped us plan for the future," said Debby.