Love My Community: Firth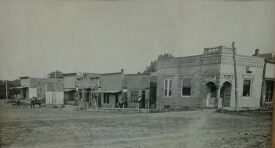 About 20 miles outside of Lincoln, nestled in the Southeast corner of Lancaster County and a mile north of Gage County, lies the town of Firth. With a little over 400 people and 218 acres, this small town has a tight-knit community, rich history, and a bright future.
Frank Russell Firth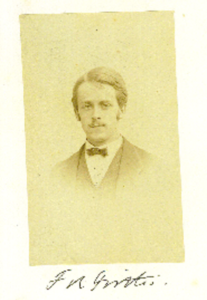 Firth was named in honor of the deeply loved Atchison & Nebraska Railroad Chief Engineer, Frank Firth.
After earning his diploma in civil engineering, he became a division engineer in Twin Springs, Kansas. Years later, after battling typhoid fever, he began working at the Atchison and Nebraska (A&N) Railroad and later was sent to Firth (before it was known as Firth) to become the acting superintendent.
Firth's hardworking attitude and fair-mindedness won him the respect of his coworkers and the community and he was later promoted to Chief Engineer of the Atchison and Nebraska, though he remained in Firth and continued to act as superintendent too.
Frank's impact extended beyond his work, to his friends and family. Many of the streets in Firth were named after Frank's family and friends: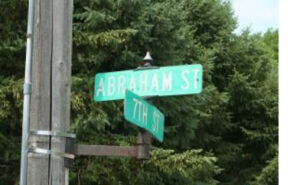 Abraham Street: Named after Frank's father
Russell Street: Named after Frank's mother's maiden name and Frank's middle name
May Street: Named after Frank's sister
Everett Street and Allen Street: Named after two of Frank's very close friends.
By 1881, Firth was said to have one of the largest grain markets on the A&N, shipping out over 700 carloads of grain and livestock. A lumberyard was established soon after the railroad arrived. Two churches and a water tower were built and established, and in the mid-1950s, a sewage system was installed. In 1964, Firth consolidated with other schools to form what's now known as Norris School District.

You're Part of the Community
Whether you moved to Firth 20 years ago or last month, you'll feel a sense of belonging and community. You'll be greeted with a warm welcome and a friendly smile. Everyday life in Firth is quiet and comfortable unless you're sitting at 3rd and Nemaha Streets where it can get a bit noisy with the co-op trucks passing through.
If you take a stroll through the neighborhoods, you'll notice the nice homes, the tall trees, and the well-kept yards. Walking a bit further into downtown, you'll find an open business in every single storefront. Whether you're picking up essentials from Sadie's General Store, a hot pizza from Papa D's Pizzeria, or grabbing your grandma a cup of coffee from Homestead Coffee & Eatery, you'll have everything you need right here.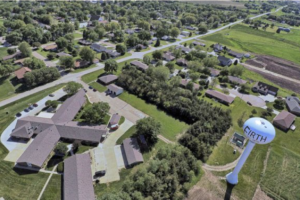 Firth Today
Many people are choosing to move to Firth because of the Norris school district and the easy access to Lincoln or Beatrice. There are plans to build new housing developments which means more families in town. The quiet, pleasant, and family-friendly atmosphere of Firth is another big draw for families.
Each year, the town hosts Firth Fun Day. This summer event starts at sunrise and goes well past sunset. It's free and a great place to bring the family for a day of fun. From pancake feeds to 5k races to sand volleyball tournaments—there's truly something for everyone.
There's also a parade, fireworks, food, and a splash pad for the kids to cool off in. It's a time for folks that live in Firth to come together and embrace their community, connect with their neighbors and spend a fun-filled day with their families.


Farmers & Merchants Bank in Firth

Before Farmers & Merchants Bank, Firth State Bank was there from 1966 to 1992. In 1992, Farmers & Merchants Bank purchased that bank and has been there supporting the Firth community ever since.
Kerri, Teller Supervisor at FMB, started there in April 2008. Kerri's married with two girls, ages 22 and 19. She lives out in the country with three horses, two dogs, and five cats. She enjoys the outdoors and tending to her flowers.
Andrew, Loan Administrator at FMB, has been there since December 2019. He grew up on a family farm where he still helps out. Andrew's fun fact that he loves to share—he's ridden an elephant in Africa.
Lisa, Customer Service Representative, has been with FMB since August 2020. She's lived in the Adams area for over 20 years.
Oren has been with the bank for over 20 years. He enjoys interacting with his coworkers and helping out Firth customers. He's married with two kids.