Smart Business: Dragonfly Café & Bakery, Milford
In the heart of Milford lies the most quaint, adorable café serving delicious food and drinks, Dragonfly Café & Bakery. If you live in Milford, you've probably visited a million times, but if you're passing through, this isn't a stop you'll want to miss.
While the café has been around for just a few years, the owners conceived the idea long before that. Jenna Schweitzer and Shawna Oswald dreamed of this café when they were still in high school. "We wanted to do something like this for quite a while, but when we actually found out they accepted the offer, we were freaked out, insecure, neurotic and emotional," Shawna said.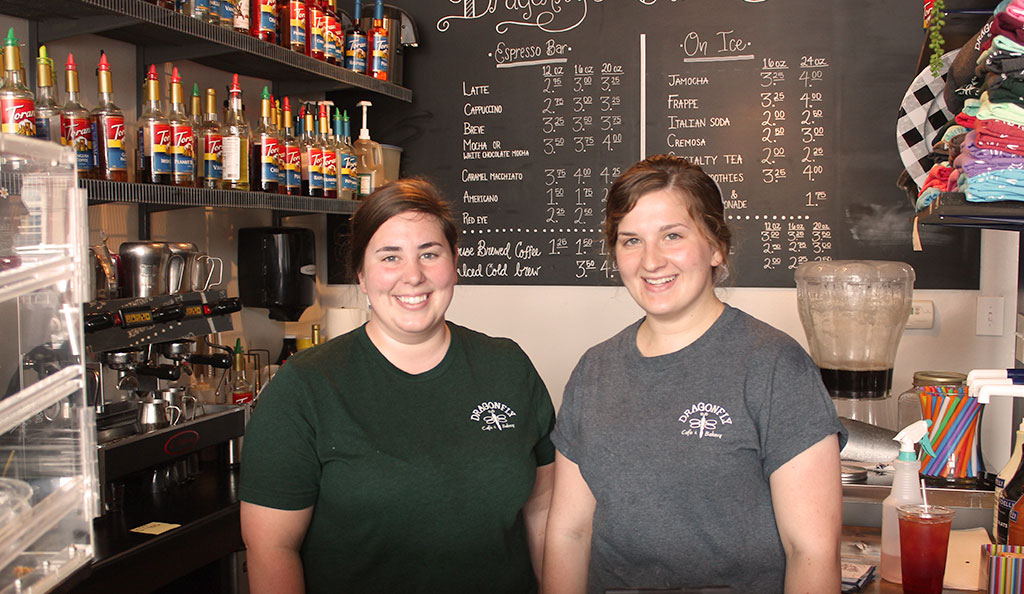 Both Jenna and Shawna cooked with their families when they were young and worked at a bakery for a short time. But, most of their experience comes from trial and error at the café and leaning on their support system. "People have been really gracious, and have looked over most of our mistakes, so far," Jenna said. "We still have a lot to learn though! Our families are very supportive, and they help out a lot, especially when we 'bite off more than we can chew', like last Easter, when we ended up making 130 pies!"
Most people assume Dragonfly is just a coffee shop, but it's much more than that. While they're known and loved for their espressos, blended JaMochas, and peach lemonades, they also know how to whip up tasty food. Their menu spans a variety of breakfast and lunch items like biscuits and gravy, chicken quesadillas, turkey clubs, chef salads, bread pudding, and muffins by the dozen.
Jenna and Shawna capture the essence of Milford — a homey, cozy, and approachable feeling— and use that to set the values for their business. "We try to use honesty, respect and love to anyone that comes in our doors," they said.
When you look at where the café is located (center of town!), it's easy to see how ingrained they are in the community. Whether it's serving Sally her morning cup of coffee on her way to work or whipping up a BLT sandwich for Billy after school, they are there to serve the community. "We spend a good portion of our time here at Dragonfly, so we keep up with the things going on in the community pretty well," Jenna said. They also make it a point to donate food and money to different fundraisers throughout the year.
One of the best ways to support Dragonfly Café & Bakery is calling and ordering ahead when you have a large order. This way, they can focus on preparing your order when you need it while continuing to serve food to the folks in town. You can also like their page on Facebook and follow their Instagram account to stay up-to-date with lunch specials, new drinks, and giveaways.
Farmers & Merchants Bank is proud to work with Jenna and Shawna at Dragonfly and the feeling is mutual. "Farmers and Merchants employees are always friendly, and happy to help in any way. If they think there are any grants or anything like that we could benefit from, they make sure we know about it! They have a standing order and are super supportive of our little dream, and that means a lot to us," Jenna said.
We're excited to see what the future holds for Jenna, Shawna, and Dragonfly!