Smart Business: Hertz/Thrifty Car Sales.
Written by LizAdmin on March 5, 2018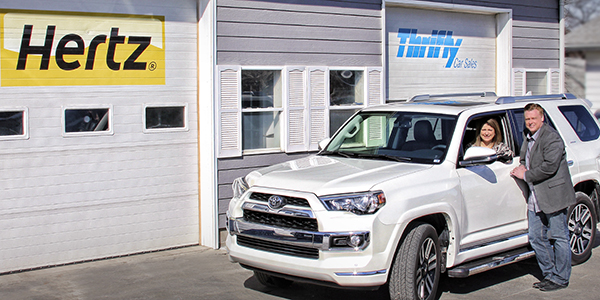 Farmers & Merchants Bank is happy to feature Hertz/Thrifty Car Sales Kearney as our Smart Business of the month.
Twenty-three years ago, in 1995, Darin opened a car rental location in North Platte, with his brother, Chris, to serve the North Platte airport and surrounding area. In 1999, Darin opened a Kearney location and Chris stayed to operate the North Platte locations and now, well, business is quite good.
Hertz/Thrifty Car Sales now has ten locations across Nebraska—eight car rental locations and two locations that sell used automobiles. It's pretty incredible growth from one lot with 30 rental cars. It's a testament to the local community of Nebraska and the support of the local communities Hertz/Thrifty Car Sales serves.
Locations include two rental locations each in Kearney, North Platte and Grand Island and one each in Scottsbluff and Hastings, along with two used automobile sales locations in Kearney and North Platte. Darin and his wife, Michelle, have four daughters and live in the Kearney area. Darin is a native of Hastings, Nebraska and a graduate of Hastings High School. Darin earned his bachelor's of science in economics, business administration and accounting at Hastings College.
What sets Darin's business apart from others is his pride and perseverance in value and quality. Darin is selective about the vehicles chosen for rental and for sale—because he cares about providing a quality product to his customers and his community.
Cars are usually vetted and purchased for the rental location and then moved to the used car lots after a period of time for purchase. So, most cars on the Thrifty Car Sales lots are newer, low mileage and sold at great discount prices.
In addition to quality vehicles at a low price, Darin also gives back to the local Nebraska communities through his employment of 25 full-time and part-time employees in his business. This, mixed with the high value placed on customer service, makes Farmers & Merchants Bank proud to have Hertz/Thrifty Car Sales as a business banking customer.