Smart Business: McBride Trucking & Excavating Inc.
Written by LizAdmin on April 25, 2018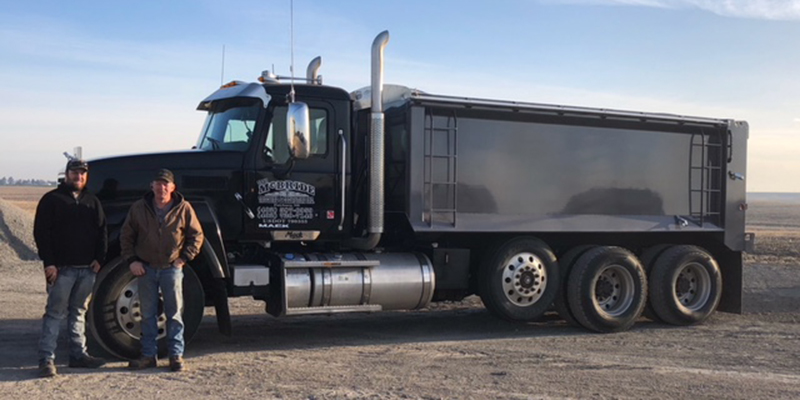 Farmers & Merchants Bank is excited to feature McBride Trucking & Excavating Inc. as our "Smart Business" of the month.
McBride Trucking & Excavating, Inc. is located in Fairbury, Nebraska, and offers demolition services, building fills, dirt work, basement digging and hauling services to Fairbury and surrounding communities. Larry and Lori McBride purchased, Bramhall Trucking & Excavating Inc., from Lori's dad, Dean Bramhall, in 1998. Dean passed away in 1997 from Lou Gehrig's disease, and Larry and Lori continue to carry on this family-owned business in his memory.
Dean started the small business with one dump truck and the intention of helping local farmers part-time while he continued farming full-time. But the need for his services proved to be much larger than a few hours a week. So he purchased more equipment to keep up with the demand and the business quickly became a full-time endeavor for Dean and his family.
Today, Larry operates the business along with his son, Troy McBride, who joined the company in 2012. They start their days off in the early morning hours ensuring the equipment is in good working order and making any necessary repairs. The trucks are critical to delivering for their customers, so this early morning routine includes checking the tires, oil, lights, brakes and fueling up for the day.
Once they roll onto the dirt road or highway taking them to the first job, the day could entail a variety of different tasks including hauling rock, road gravel, fill dirt, black dirt, fill sand or lime. Or, it could be a day filled with booms and bangs—literally—since the business does demolition for the local community and surrounding areas. Other services include fills for building pads, basement digs and snow removal. After their day of work, evening hours consist of bidding future jobs.
Lori and daughter, Kylie Whitton, keep busy with the accounting responsibilities for the business including payroll, payables and receivables, filing, spreadsheets, data entry and bank deposits.
McBride Trucking & Excavating Inc., has been using Farmers & Merchants Bank's business banking services since 1981. The company's commitment to quality and responsiveness has proven to be a huge value for Fairbury and outlying communities. We are proud to have them as a customer and as part of the local Nebraska community.