Smart Business: Robert M. Merryman Performing Arts Center, Kearney
Written by admin-kidglov on February 10, 2020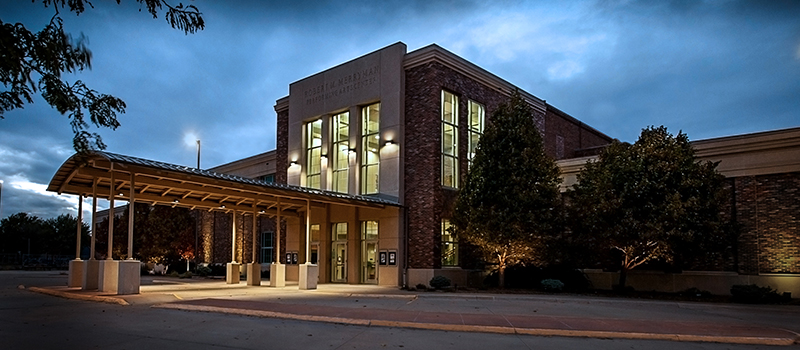 Originally built in 1926 as Kearney Junior High School, the Robert M. Merryman Performing Arts Center is a renovated, 768-seat, historic auditorium in Kearney, Nebraska—and now one of the largest performing art centers between Denver and Lincoln.
In 2006, hundreds of donors from Kearney and around the United States came together to imagine the possibilities, raising more than $5.2 million to create this beautiful center that showcases theater, dance, music and more. Supporters included Kearney Public Schools alumnus Robert M. Merryman and the Ron and Carol Cope Foundation.
The grand opening for the venue was in October of 2006, and it now welcomes over 40,000 visitors at more than 300 events each year. Impressive!
The Merryman is also the only performing arts center in the nation housed in a nationally registered historic building and an active elementary school. It serves central Nebraska by being an engine of creativity for young people and a center of enjoyment, culture and affirmation for the community. The theater's vision is brought to life with an incredible amount of effort by so many talented and dedicated people, as well as the core values of creativity, integrity and excellent service.
With performances ranging from the live children's theater show Clifford the Big Red Dog to the music of Abba and the Turtle Island Quartet, the Merryman presents programming to engage a wide demographic of audiences in Kearney and south-central Nebraska.
The center is proud to have the support of more than 600 season members from nearly 45 Nebraska communities. They often sell-out shows, but the Merryman (maybe because of its name) prefers to measure its success by the smiles on people's faces after each performance. Their greatest joy is hearing what people loved about a show or asking when the center will bring back their favorite artist for an encore performance.
One of the greatest prides of the Merryman is the ability to provide programming for elementary-aged and younger children through their Morris Matinee series. Each year, the center offers entertaining and educational experiences for nearly 4,000 kids and their families for free or reduced ticket prices—families that may not otherwise have the opportunity to experience national touring artists and companies. This is all through the support of their generous patrons, community sponsors and partners, including Scott D. and Rochelle Morris.
Farmers & Merchants Bank has partnered with the Robert M. Merryman Performing Arts Center since its opening season back in 2006. We've been honored to provide financial support (and lots of applause!) for this place of historical and cultural significance. We are proud season members of this excellent institution in the Kearney community––and hope you get involved, as well.