A Guide for your Mid-Year Financial Checkup
We're almost halfway through the year — can you believe it? Now is the time to look at your financial progress to see if there's an opportunity to contribute more towards retirement, save money, or cut expenses.
Walk through a mid-year financial review to make sure you achieve your goals by the end of this year. These 6 checkpoints will help keep you on the right track.
Review retirement savings
Let's start with an easy one: your retirement savings! In a perfect world, you would be halfway to your goal for what you want to save this year. Remember, for 401(k)s, the maximum contribution amount is $19,500 for 2021. So if you aren't quite there, consider increasing your contributions each month or if you're over halfway, review your automatic contributions to make sure you don't go over for this year.
As for Roth IRAs, the maximum contribution amount is $6,000 for 2021 so apply the same steps here and make sure you're on track to maximizing that amount! Learn more about our IRA rates today.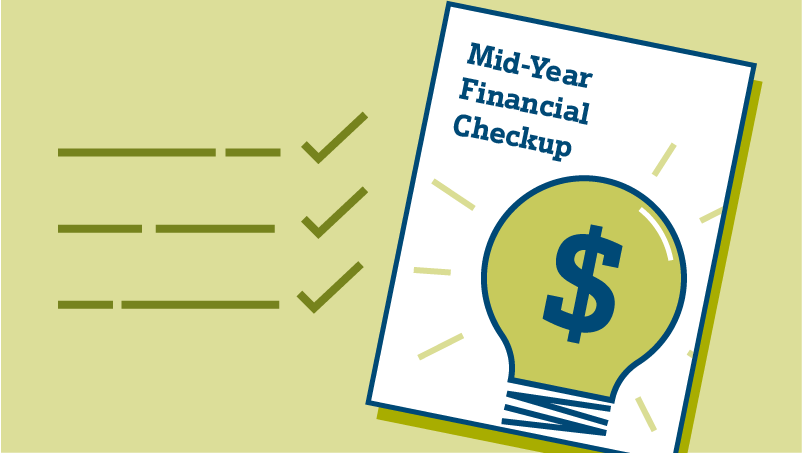 Boost savings
Saving and putting aside money for certain occasions is a smart way to make sure you're prepared for what's coming. This works well for trips, weddings, and even those unplanned expenses that are sure to come up.
Not sure if you're on track for your savings goal? To figure out how much to save per month, take the amount you think you'll need for the event and divide it by the number of months left. For example, if you're planning a trip to Disneyworld in December and you want to have $3,000 saved up for it, you'd take $3,000 and divide it by 6 months, which would be $500/month. Once you have this number, you can boost your savings and make sure you're setting that aside every single month to reach your goal!
Learn more about our savings accounts today.
Check your emergency fund
It's good to prepare for the worst-case scenario, especially if you have more responsibilities like kids or you own a house. Peek at your emergency fund and make sure you still have enough to reflect 3-6 months of expenses, including bills, groceries, car payments, and all your other non-discretionary spending. Your monthly expenses may have shifted in the last few months and your emergency fund should reflect that shift, whether you need to add more to it or scale it back.
However, don't tempt yourself and take money out! Remember: it's only for emergencies.
Cut unnecessary expenses
Have you noticed that you're spending more money lately? Maybe you're going out to eat more or grabbing drinks with friends every weekend? Try cutting unnecessary expenses where you can!
Here's a quick list to get the ball rolling:
• Offer to cook meals at home instead of going out to dinner with friends and family
• Make a grocery list before going to the store or order groceries online for pickup
• Brew coffee at home instead of swinging by the coffee shop on your way to work
Cancel subscriptions
Can you list all of your subscriptions off the top of your head? If the answer is anything but "yes," you should take inventory of your subscriptions. Things like clothing box subscriptions, Hello Fresh or Blue Apron boxes, and Amazon Prime seem great at the moment, but if they aren't getting used, it's time to say goodbye to them!
This doesn't mean you should cancel every single subscription — only the ones that you don't need or want or use.
Re-evaluate your goals
Now that you've dusted off your financial checklist, it's time to re-evaluate your goals. Maybe you're making more money now from a promotion at work — see if you can contribute more to your 401(k) to hit your goal. Or maybe you are recently engaged — time to start calculating costs and putting aside some money in a separate savings account.
Once you do these six things, you'll feel fantastic knowing you're still on the right track. You can do this!